I am proud to have worked on 
the
 design of Boots 'Health & Beauty' – listening to customers and working closely with the client to craft content which is inclusive, diverse and pushes boundaries to help make positive changes in the world.
I worked closely with the creative director on a number of 
redesigns, designed and art directed unretouched covers, pushed content out on to digital platforms to reach a wider audience. I was part of the concept team tasked with creating a new visual identity to consistently communicate Boots unique personality in line with the wider group rebrand strategy.
PROJECT:
 Redesign of multi-channel cont

ent

programme for Boots Health & Beauty.
BRIEF:
With a combined readership of 2.4 million across print and onlin

e chan

nels, Boots 'Health & Beauty' is the leading women's health and beauty magazine in the UK. Boots wanted to re-energise its content for a modern audience and to support their new brand vision as 'the nation's pharmacy, wellbeing and beauty care experts – providing customers with inspirational, unbiased and trusted content that connects them t

o prod

ucts and services they need, when they need them, wherever they are'.
SOLUTION:
Using qualitative and quantitative research, new customer journeys were mapped out and an authentic brand promise was crafted. A fresh content strategy was devised which balanced customer needs with business goals – delivering fun, inclusive brand experiences to customers, however and whenever they wanted to inte

ract.

 
I worked closely with the creative directors and the wider integrated agency concept team to create a fresh visual identity with a bolder, cleaner feel. 
A new masthead was crafted to integrate with the redesigned Boots logo and a family of fonts was introduced to work alongside playful white space keeping designs clean and breathable. ​​​​​​​
A fresh editorial direction was taken, creating the opportunity to hook Boots into the national conversation across all channels, starting important conversations on issues close to readers' hearts and increasing engagement.​​​​​​​​​​​​​​
The redesign was shortlisted for the PPA Innovation Of The Year Award 2020.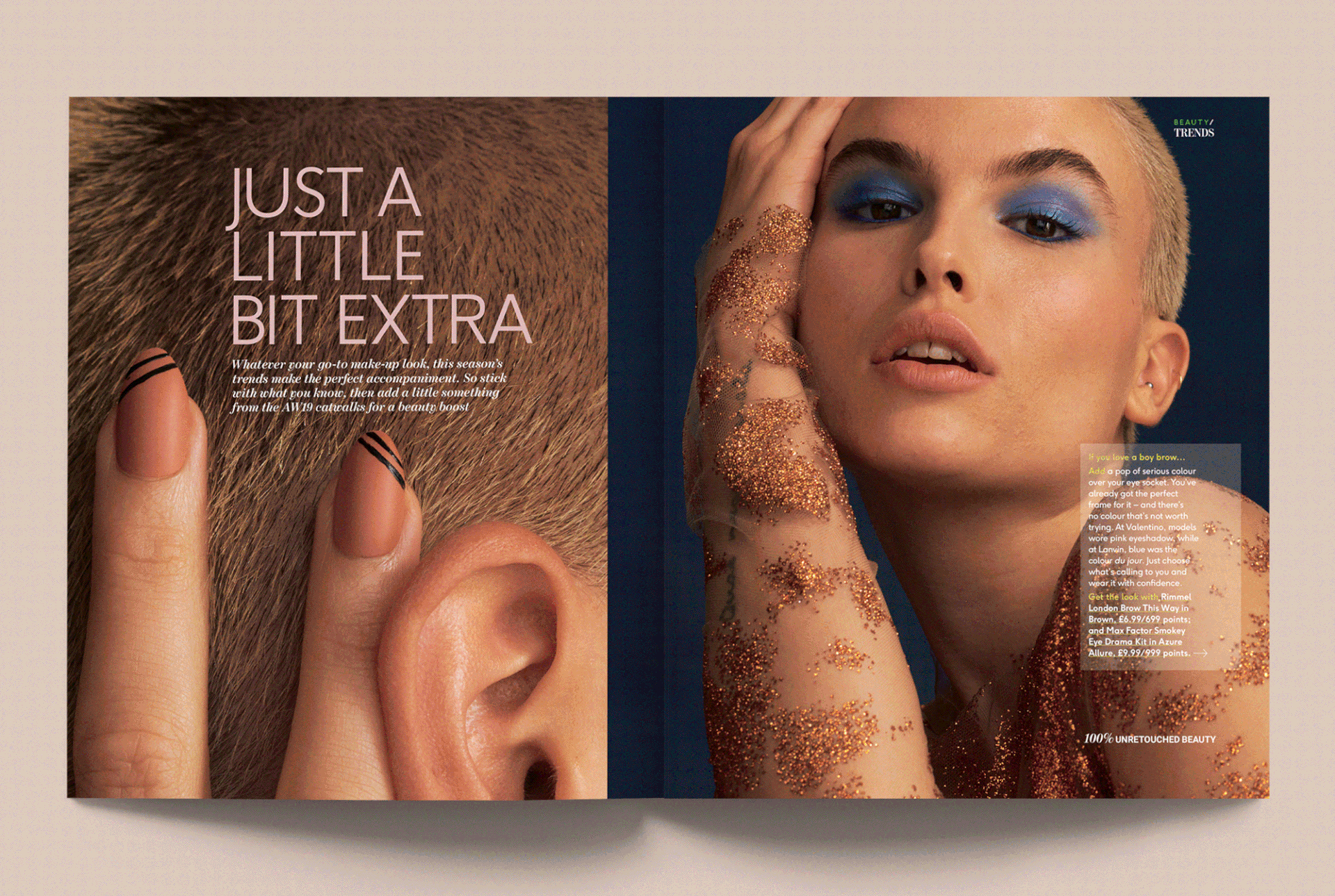 Credits:
​​​​​​​Photography: Benjamin Madgwick, David Lineton; Business Director: Georgie Eely; Executive Creative Director: Keith Drummond; Editors: Helen Daly, Jessica Powell; Chief Content Officer: Lucy Coles; Creative Director: Geraldine Lynch; Creative Director (WPP) Lotte Jeffs; Group Art Director: Louisa Edge; Chief Strategy Officer: Natasha Jackson; Digital Director: Richard Firth
PROJECT:
 As Group Art Director for 'Health & Beauty' I was responsible for the consistency of communication across all channels for Boots.
BRIEF:
To lead and motivate the creative team and oversee design projects across print, digital, email, video and social. Responsible for quality end-to-end design execution from client brief through to implementation and on-budget delivery.​​​​​​​
SOLUTION:
 I worked closely with the client and editors at brief and planning stages to ensure deliverables were met in the most agile and cost-effective manner. I hired a new creative team to implement a bold, striking, clean aesthetic. This refresh kept the brand looking modern, consistent and in line with the ongoing wider brand transformation strategy as Boots moved closer to a full rebrand starting with radically overhauling its bricks-and-mortar stores and bringing in fresh beauty brands like Fenty Beauty. 
I maximised asset creation for population on Boots.com and Boots' social channels as well as sharing with internal teams. 
Our culturally relevant stories started national conversations, tackled taboo subjects and championed an authentic, diverse look and feel.​​​​​​​​​​​​​​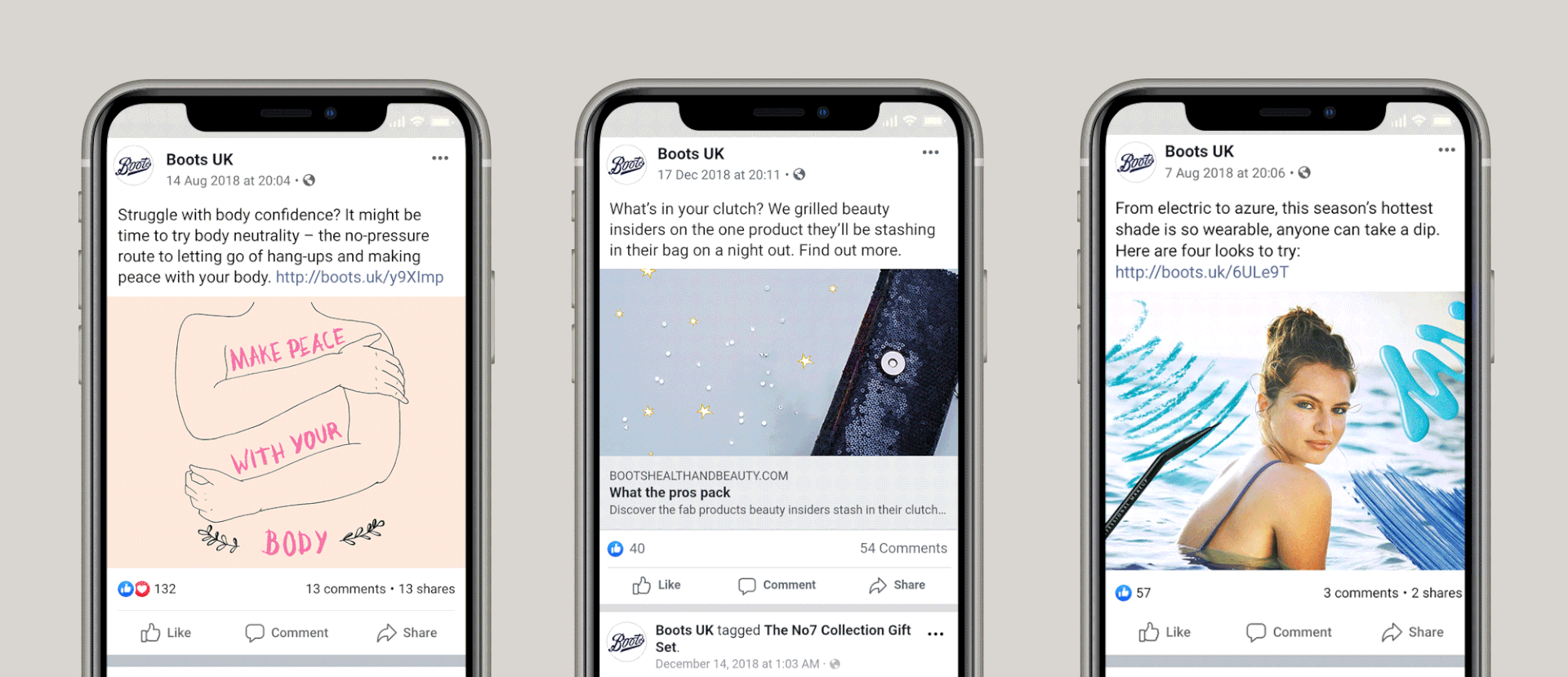 Credits:
Photography and filming: Rachell Smith, John Rowley; Executive Producer (How to videos): Jeremy Dunn; Business Director: Georgie Eely; Executive Creative Director: Keith Drummond; Editor: Helen Daly; Group Art Director: Louisa Edge; Art Editor: Melisa Lee; Picture Editor: Ffion Griffiths